Desert Edge Visits Notre Dame Prep in 5A Opening Round Rematch
November 1, 2017 by Tyler Carlson, AZPreps365
---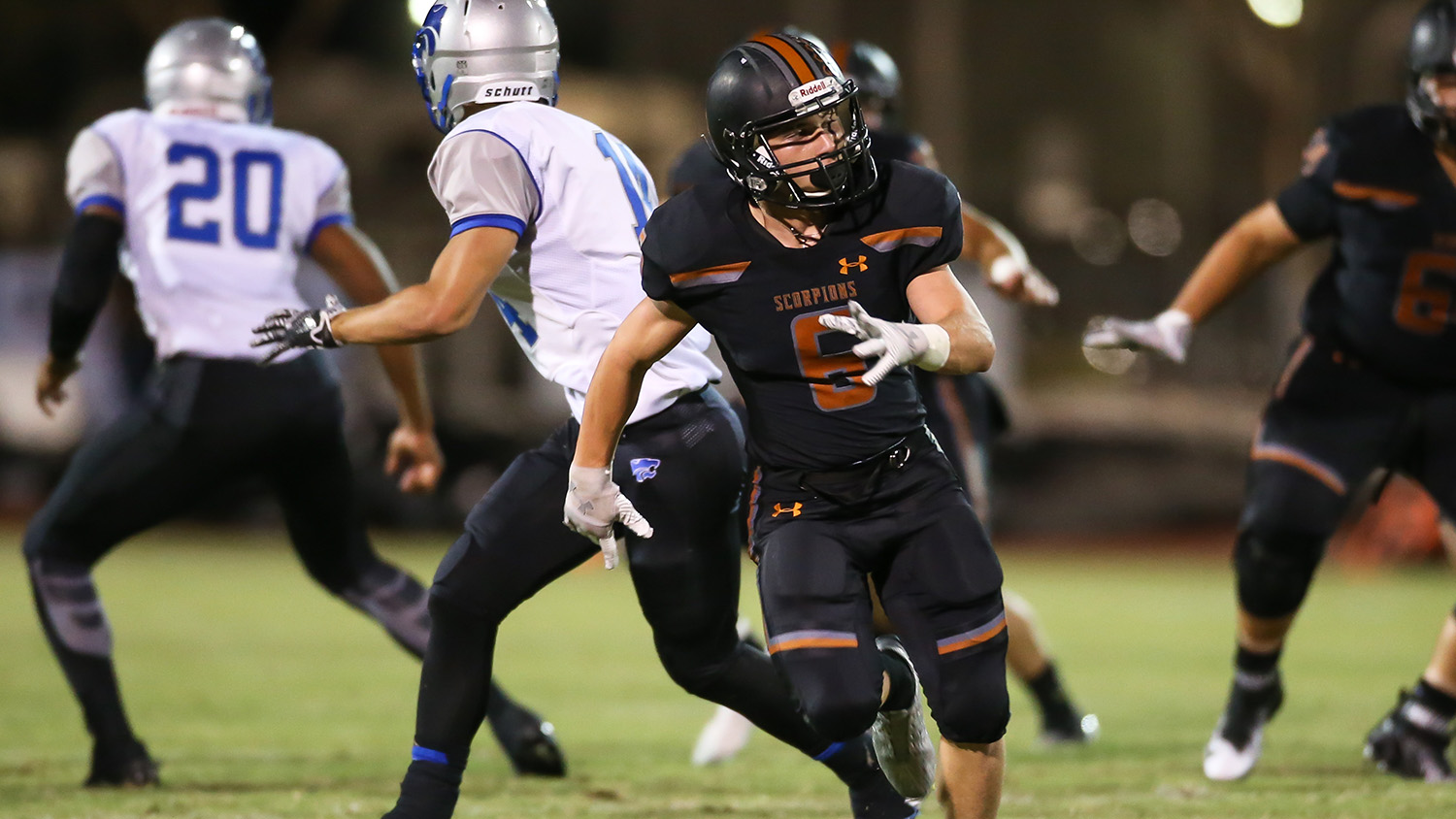 The AIA football playoffs are set to begin this weekend as the Scorpions from Desert Edge make the trek east into Scottsdale to take on undefeated Notre Dame Prep in opening round action in 5A.
Desert Edge (7-3, 4-1 Desert West) comes into Friday's matchup having narrowly missed out on the Desert West regional championship, being defeated 24-17 in overtime last weekend to Verrado.
The loss was the Scorpions' first in nearly two months as Desert Edge won seven straight games following two losses to begin the season. During that seven-game stretch, the Scorpions were dominant, outscoring opponents 224-85.
"We definitely went and made some adjustments," said Desert Edge head coach Jose Lucero on his team's turnaround "Offensively, we've gone away from any sort of spread look and focused more on our power running game, and defensively we've focused on trying to get more speed on the field, move some kids around to some different spots just to get more athletic, and it's been successful for us."
A key piece to that success for Desert Edge has been the performance of running back Rocky Perez. This season, Perez has proven himself a workhorse, racking up 1,321 yards (ninth in 5A) and 13 touchdowns. The senior has averaged over 130 yards per contest while eclipsing the century mark five times this season.
"Rocky's huge for us," said Lucero. "He fits our style perfectly. He's a tough downhill runner who gets behind our offensive line, reads blocks really well, and is kind of a guy we can trust. He's kind of our go-to guy in tough situations, so he's been huge for us."
The run-heavy Desert Edge offense, which averages 288 yards per game on the ground, also relies on the contributions of running backs Kody Ball and William Craglow, who have complimented Perez, combining for 829 yards rushing and nine touchdowns in 2017.
Defensively, the Scorpions have been strong as well. Led by a slew of defensive playmakers, Desert Edge has allowed just over 253 yards and 17 points per game this season.
Junior linebacker Milton Rodgers leads the defensive charge for Desert Edge, collecting 91 tackles on the season, 42 more than the next closest player in that department. Rodgers has also displayed an ability to get to the quarterback, recording three sacks as well.
Along with Rodgers, the Scorpions have displayed an effective pass rush across the board, collecting 16 as a team. Defensive linemen Nassir Simms and Dylan Scovil have been effective up front, combining for 6.5 sacks this season, while safety Treyvon Williams has created issues in the backfield, collecting three sacks coming out of the secondary.
Since the 0-2 start for Desert Edge, the Scorpions defense has been dominant in the team's final eight contests, allowing just 230 yards and 13.6 points per game to opponents.
Notre Dame Prep (10-0, 4-0 Northeast Valley) will enter Friday having put the finishing touches on a perfect regular season, thumping Vista Grande last weekend 53-24. The Saints largely cruised through the regular season, displaying dominance and outscoring opponents 444-172 in 2017 on their way to the Northeast Valley region championship.
Like Desert Edge, the Saints rely heavily on a strong run game, highlighted by talented running backs Jake Smith and Cole Fisher. Fisher this season has rushed for 1,076 yards while finding the end zone 18 times. The senior has also rushed over 100 yards in five of the Saints 10 games.
Smith, meanwhile, has put together a strong season of his own on the ground, racking up 879 yards and 11 touchdowns. However, the versatile back has also proven himself a threat in the pass game as well, leading the team with 766 yards receiving and nine additional touchdowns through the air.
Together, Smith and Fisher have gained 2,809 yards from scrimmage for Notre Dame this season, accounting for over 63 percent of the Saints' total offensive production.
"Both guys are extremely talented," said Saints head coach George Prelock. "When they're both on the field it's tough to key on both of them. They do a great job complimenting each other in terms of they make each other better. At practice they're helping each other out, they're competitive, and they like playing with each other."
The Saints have also seen production for their senior quarterback Kylan Weisser, who has thrown 1,473 yards and 17 touchdowns this season against just two interceptions.
The opposite side of the ball for the Saints has been equally as impressive. Giving up just 207 yards and 17 points per game to opponents this season, the Notre Dame Prep defense is led by senior linebacker Vincent Elrod, whose 79 tackles lead the team.
Collecting 2.5 sacks this season, Elrod has also contributed to a strong pass rush for the Saints this season which, behind the efforts of linebacker Kyle White (9.5 sacks), and safety Ricky Manning (4.5 sacks) has compiled 28 sacks in the team's 10 contests.
Additionally, the Notre Dame defense has forced offenses into 22 turnovers this season, highlighted by the efforts of senior cornerback Justin Maschek, whose five interceptions is tied for second in 5A.
"These kids have known each other for a while," said Prelock on his defense. "The majority of the kids have been starters since they were sophomores, and when you have that many years of playing together and having that varsity experience for three straight years, it pays dividends, and we're seeing it translate on the football field."
Friday's contest will mark the second time this season the two teams will meet at Notre Dame Prep, with the Saints riding a 183-yard, three-touchdown performance from Fisher to edge the Scorpions 27-21 in a thrilling overtime victory in Week 2.
Despite a ferocious fourth quarter comeback effort, scoring twice in the final nine minutes of regulation, the Scorpions were held to just 211 yards of total offense and seven points through three quarters in that game. However, for Lucero and his team, they know it will take a complete performance to knock off a talented Saints team.
"Primarily just execute," said Lucero on his team's needs come Friday. "If we're executing and doing what we're coached to do, I feel like we're a pretty good football team. That's kind of been our focus this week. In big games like this one, if you can focus on the little things, you tend to be successful."
Friday's game kicks at 7 p.m. and can be streamed live at https://www.nfhsnetwork.com/events/azpreps365/060766144d and heard on the Fanatic (1580 AM and 99.3 FM).