Volleyball: 3A-2A-1A champions crowned
November 4, 2017 by Les Willsey, AZPreps365
---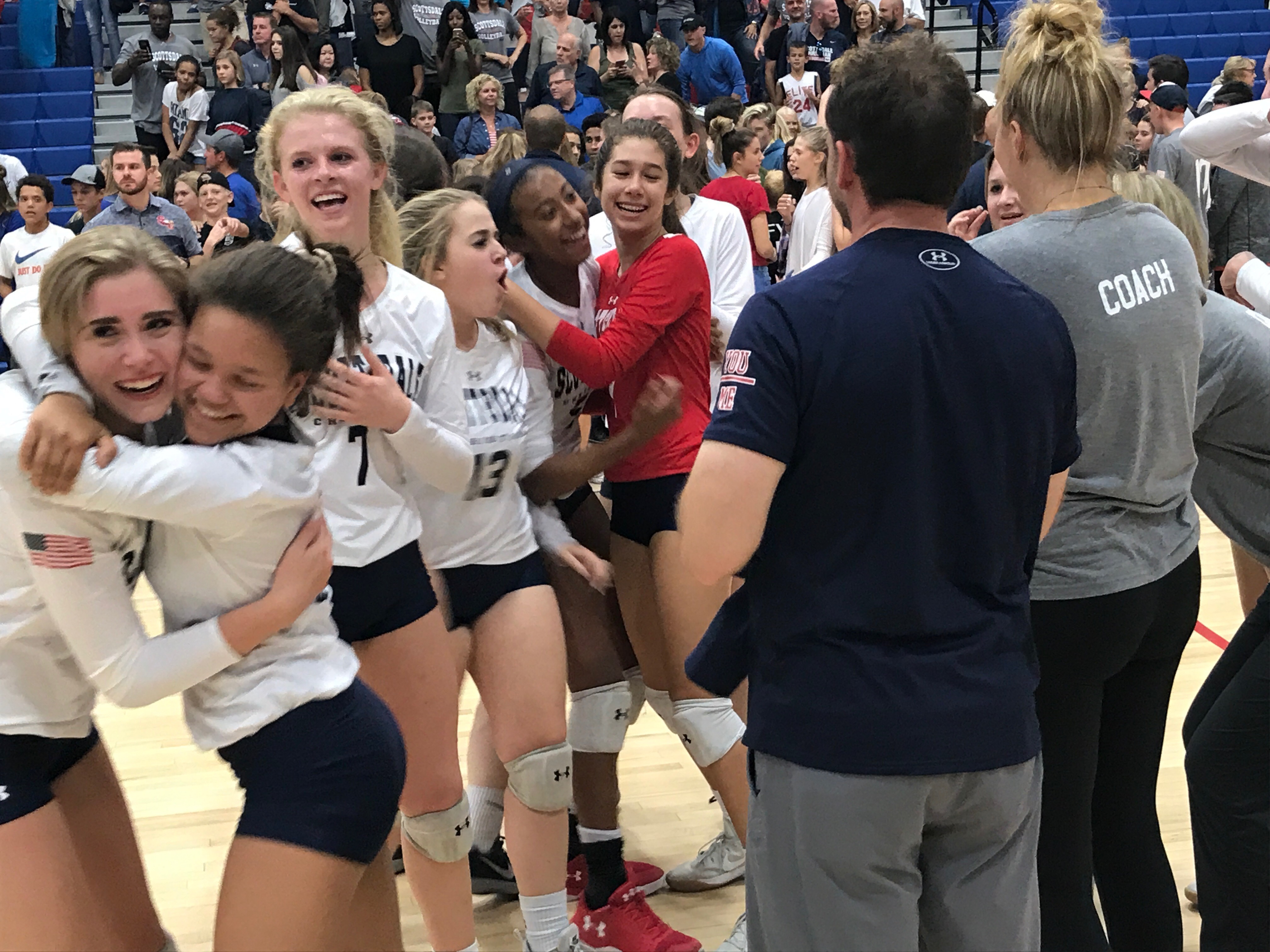 Fountain Hills coach Peter McGloin rejoices with his team in 3A title repeat. (AzPreps365.com photo)
There was a little bit of everything from the trio of vollleyball championships claimed Saturday afternoon and evening at North High School.
Three of the state's six titles ( 3A, 2A and 1A) were decided and outcomes featured repeat champ Fountain HIlls in 3A, the conclusion of a dominating season for Scottsdale Christian in 2A and the first-ever volleyball crown for 1A St. Michael.
No. 3 Fountain HIlls made it back-to-back crowns with some adversity thrown in as it swept top-seed Snowflake, 25-16, 25-19, 25-15.
The Falcons veteran libero Paula Iwaoka suffered a freak knee injury on Monday that left the team searching for a replacement. That replacement had never played libero before -- junior Alexa Armenta. Armenta responded with four qualify matches Friday and Satruday, capping her effort with 21 digs in the win over Snowflake.
"I knew what she could do from beach volleyball in the spring," Fountain HIlls coach Peter McGloin said. "We thought she could handle it. The injury gave us a little time to adjust, and we felt confident with her. We had some injuries earlier this year that set us back and thought we would be totally healthy for the playoffs. As it turned out everybody played well and adjusted."
The constant the last four years for Fountain HIlls -- standout outside hitter KC McMahon -- finished her prep career on a high note. McMahon blasted 23 kills and hit .553 for the match. Her presence and dominance was felt from the get-go by Snowflake. Senior outside Amara Feyrer-Melk was steady behind McMahon with 11 kills, including the match clincher.
Fountain HIlls closed the season winning its last 21 matches. The Falcons avenged an early-season loss to No. 2 seed Northwest Christian, 3-2, in the semis. Snowflake also endured a tough semi with a 3-2 win over Blue Ridge. The third time those teams went to five sets and Snowflake winning them all.
The 2A final went to No. 1 seed Scottdale Christian which completed a four-match tourney run with its fourth sweep in as many tries. The Eagles topped No. 6 Veritas Prep, 25-23, 25-11, 25-22 to extend its season winning streak to 27 matches. SCA finished the season 36-3 and did not lose a match to a 2A opponent.
The two close sets were won with SCA coming from behind. The Eagles didn't lead the first set until they went up 20-19. They trailed the third, 20-15 before using a 10-2 run to close it out. The team's motto of "mentality and unity" served them well when those sets were on the line according to coach Kim Ohlinger.
"This was all about them, it was all about heart," Ohlinger said. "They always offered encouragement to each other. They earned this."
Senior outside hitter Lexi Schamadan led SCA's attack with 19 kiills and junior outside Lauren Ohlinger checked in with 14 kills.
The battle for the 1A crown was between teams looking for the first volleyball title in their history. St. Michael prevailed in four tough sets, 29-27, 20-25, 25-23, 25-18. St. Michael made one prior trip to the finals -- finishing second in 1999. Mogollon's drought in title matches stretched to seven with the defeat. St. Michael, with a senior-dominated roster and lineup, made up for losses the past two years in the semis. Mogollon took runner-upn honors for the second year in a row.
The first set featured 14 ties with Mogollon holding the biggest edge a couple times mid-set at five points. Each team fought off two set points before a swing into the net gave St. Michael the first set. Late kills by St. Michael match-kill leaders Delila Nakaidinae and Jalynn Smith were huge. Nakaidinae finished with 18 kills and Smith had 17.
Mogollon was led by junior Lauren Hancock (16 kills) and sophomore Jillie Maner (15 kills).
St. Michael signifies it is No. 1 with the school's first volleyball title (AzPrep365 photo)