Volleyball: Xavier Prep unseats Corona for 6A crown
November 9, 2017 by Les Willsey, AZPreps365
---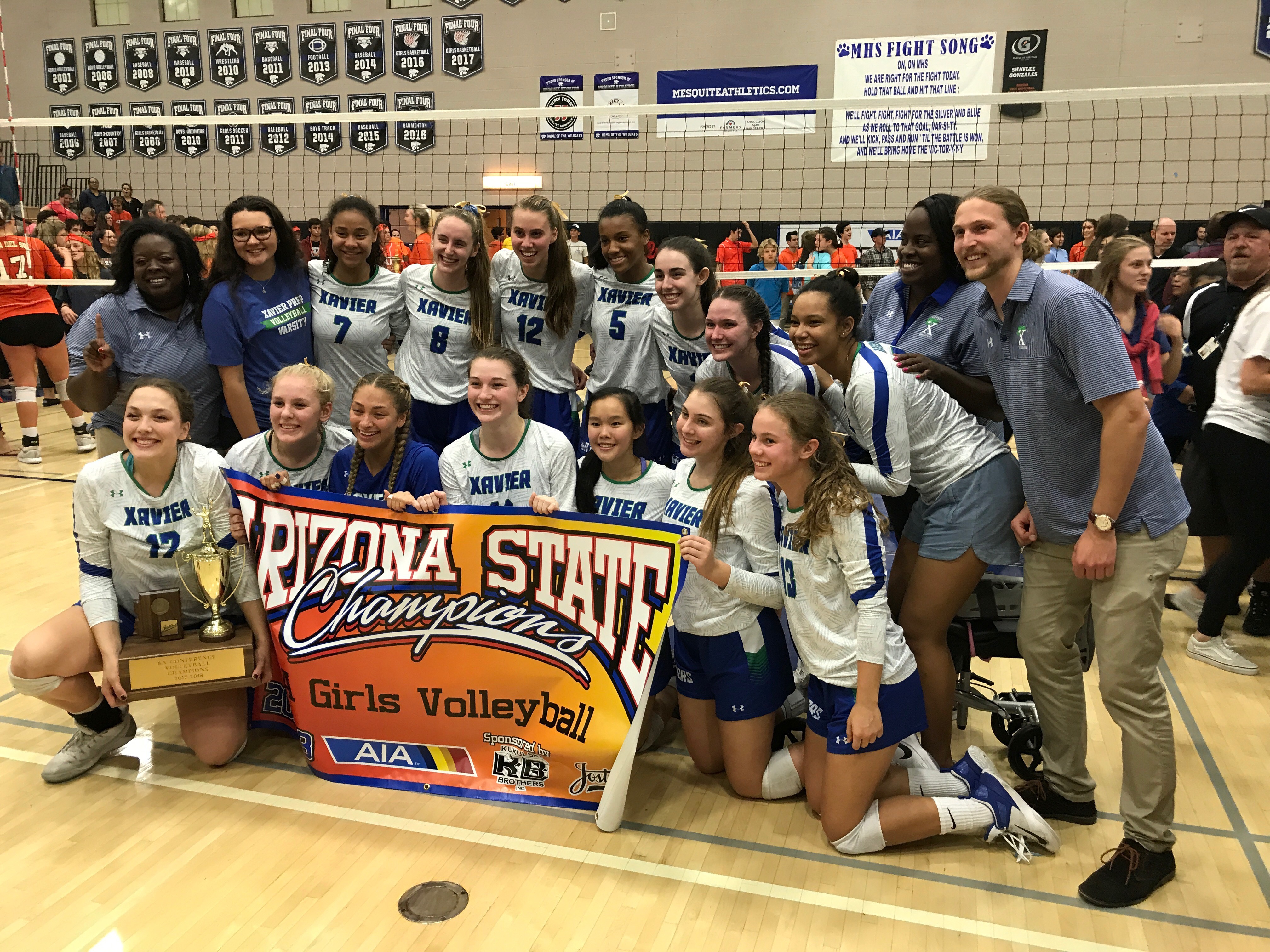 XCP's Lanie Wagner, Brianna McKnight & Shannon Shields celebrate the Gators' volleyball title (AzPreps365 photo)
Lanie Wagner wasn't at the top of her game in Tuesday's 6A volleyball semifinals against Perry. Very ordinary if not subpar match for her.
Not the case Thursday evening as the senior hitter led Xavier Prep to the title in four sets over defending champion Corona del Sol. Scores were 23-25, 26-24, 25-17, 25-17 at raucous and packed Mesquite High School. The victory also capped a very productive fall season for Xavier (state titles in golf, swimming and volleyball and a runner-up finish in cross country). Xavier's last volleyball title was in 2013 -- coach Lamar-Renee Bryant's first season.
The title was Xavier's 12th in the sport in 21 years -- it claimed its first crown in 1996. Xavier capped the season with a 40-3 record and handed Corona del Sol (41-3) all of its losses this season in the Aztecs' bid to repeat. Corona appeared in its 10th title game in school history so this was a match featuring teams that know a thing or two about deep runs at state.
"It was a very different story for Lanie tonight," Bryant said. "She was super determined. It was fitting she served the last point. She had an outstanding match."
Wagner finished with a match-high 22 kills, 17 digs, two blocks and two aces. Wagner totaled seven kills in the semis, a season-low in a way since that match went five sets and most others the Gators played went only three. Wagner had plenty of help on the attack with sophomore outside Brianna McKnight (13 kills), sophomore middle Jasmine Knight (7 kills) and senior middle Ericka Snopko (seven kills, four blocks)
"They played very well in the third and fourth sets," Corona del Sol coach Ben Maxfield said. "We couldn't find any rhythm....
"In a lot of ways we exceeded expectations this year. We had some young players step in and step up."
The teams both rallied from four- or five-point deficits to split the first two sets. That seemed to set the tone for a five-set match with not much separating either squad. But Xavier's all-around play in the third and fourth was at a very high level and amde Corona look to be average at several junctures of each set.
Wagner collected nine of her kills in the third set and it was Wagner and Snopko that allowed Xavier to put Corona away late in the third. Wagner served four points, had a kill and an ace while Snopko contributed two kills and set-ending block to put the Gators up 2-1.
The fourth set, led by Xavier most of the way, was a 16-14 Gators' lead when they pulled away. A 6-0 run via kills from Knight, two from freshman Serena Turner, and Wagner, plus a pair of blocks from Snopko pushed the margin to 22-14.
Corona senior Brooke Nuneviller delivered most of her team-high 16 kills in the first two sets. Maddie Noble added 13 kills and Allysa Wissinger had 10 for the Aztecs. Nuneviller and Noble collected 17 digs apiece and Abby Meyer set up attacks with 44 assists.