4A CHAMPIONSHIP: Saguaro wins fifth in a row
December 2, 2017 by Andy Morales, AZPreps365
---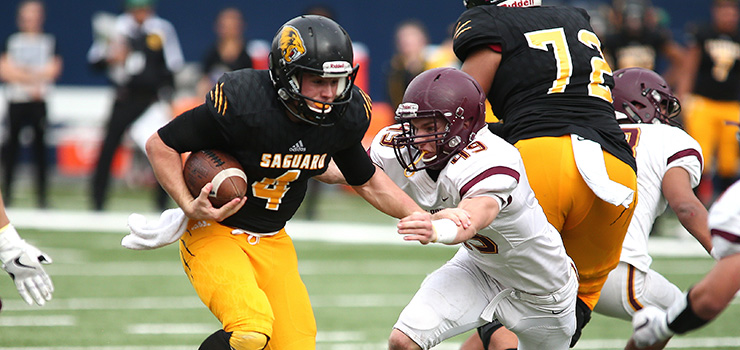 Max Massinagle (Andy Morales/AZPreps365.com) For more photos please visit MaxPreps.
It was easy to see what was coming Saturday afternoon at Arizona Stadium.
Max Massingale led Saguaro to a 14-0 record in 2016 and he did it with a balanced attack of 2,291 yards passing and 1,012 yards rushing. Granted, he also had Stone Matthews in the backfield with him and Matthews finished the season with 2,088 yards rushing, but none of his receivers finished with over 433 yards on the year and only two went for more than 400.
This year, the focused shifted to Massingale's arm and he delivered on 3,345 yards passing and 34 TDs with two receivers approaching 1,400 yards each. The Sabercats didn't abandoned the run, according to head coach Jason Mohns, they used it to exploit the defensive secondary when needed and that game plan carried over to the 4A state championship game with the Sabercats defeating Salpointe 28-7.
"We stuck with it and ran the ball even though there may not have been much there at times," Mohns said. "We took shots when they were there."
The vaunted Salpointe (12-2) defensive line and linebacker crew limited Saguaro (12-2) to 65 yards rushing on 32 attempts. At just over two yards a carry, there was no way the Sabercats were going to win their unprecedented fifth state championship in a row. No chance.
Yes, Massingale picked his spots when needed and he finished with 231 yards and two TDs in the process. There was simply no answer for Logan Pettijohn and Zach Wilson once they got into the secondary. Pettijohn pulled in 85 yards and two TDs and Wilson collected 122. On the year, Pettijohn finished with an incredible 1,375 yards and Wilson had 1,252.
Still, the Sabercats and Lancers played to a 0-0 tie in the first quarter with both teams punting twice. There was a feeling that, if the Lancers had a chance, they were going to have to strike early but uncharacteristic penalties on the offensive line and the inability to open holes for Bijan Robinson and Mario Padilla let the Sabercats off the hook.
At one point, Salpointe QB Rodrigo Nieto found an open man downfield, but a lineman was also in the vicinity, negating a promising sequence. Robinson finished with a game-high 159 yards rushing but the work was hard in the early going.
"They keyed on me hard and made it tough to move the ball," Robinson explained. "We also had a few mental errors but I know we will be back."
The sophomore finished the year with 2,018 yards rushing and he will, indeed, lead a talented team next year that includes junior Padilla. Padilla finished with 63 yards rushing to finish with 821 on the year but it was his 99-yard kickoff return in third quarter that helped put some fight back on the Salpointe sideline.
Massingale put Saguaro up 7-0 on a 35-yard pass to Pettijohn and he took one in himself on a short plunge with 3:05 left in the second to put Saguaro up 14-0. Pettijohn caught his second TD pass to put the Sabercats up 21-0 with :51 seconds left and then came Padilla.
Padilla took the ensuing kickoff and bolted down the sidelines, displaying his speed against some of the top defenders in the state. Momentum had shifted and the Sabercats were forced to punt but the Lancers could not cash in on a drive that turned from a first-and-goal situation to cut the lead down again, to a 14-yard fumble that helped turn the ball back to Saguaro on downs.
The Sabercats put together one last drive and Massingale walked into the end zone from two yards out for the 28-7 final.
"We stayed hungry and humble and we never backed off," Mohns added. "We had a feeling turnovers could be the difference today and we wanted to take advantage of those also."
Sure enough, an interception by Josiah Bradley resulted in a TD as did an interception Antonio Cuevas. Chris Aguirre and Brian Corrales recorded sacks for the Lancers and Seth Robinson did the same for Saguaro.
Salpointe head coach Dennis Bene told his guys to lose with dignity and keep their chins up. His Lancers did that and more this year. Saguaro is the only 4A team to beat Salpointe over the last two years – the Lancers have certainly earned respect.
As indicated, this was the fifth state championship in a row for the Sabercats and eleventh overall:
SAGUARO CHAMPIONSHIPS
2017: 4A (Jason Mohns)
2016: 4A (Jason Mohns)
2015: D-II (Jason Mohns)
2014: D-III (Jason Mohns)
2013: D-III (Jason Mohns)
2011: D-III (John Sanders)
2010: 4A D-I (John Sanders)
2008: 4A D-I (John Sanders)
2007: 4A D-I (John Sanders)
2006: 4A D-I (John Sanders)
1995: 4A (Tim Beck)
The Lancers are the last "Big School" from Southern Arizona to win a state championship, a 46-20 win over Chaparral in 2013 in Division II.
(MaxPreps photo)