6A girls state soccer preview
January 29, 2018 by Les Willsey, AZPreps365
---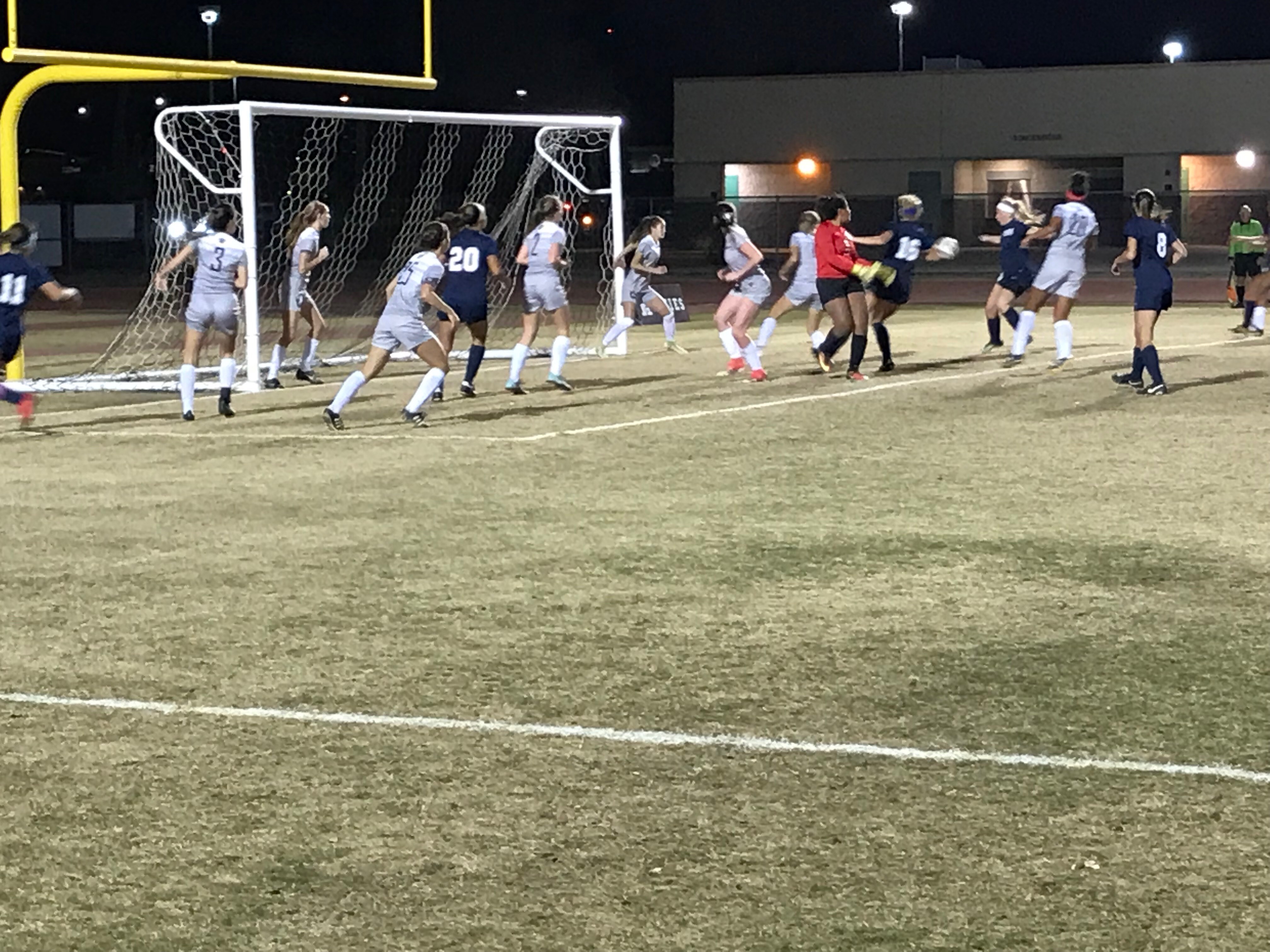 #2 Perry and #5 Hamilton battle last week among many title hopefuls this season. (AzPreps365 photo)
A peek at the first-round matchups for the 2018 6A girls soccer state tournament that begins Tuesday night:
#16 Mountain Pointe (11-8-3) at #1 Xavier Prep (11-3-2): Xavier, with nine state titles to its credit, captured the top seed after a frantic shuffling in the power rankings the final three weeks for the top spot with Perry and Basha. The Gators are the defending champions and have a playoff-experienced lineup. Junior Kyla Ferry leads the team in scoring with 17 goals, 11 assists, including seven-game winning goals and Abby Hubbard is also in double figures with 11 goals, 5 assists. Senior Kinsey Ehmann has been solid in goal the past four seasons and defender Nicole Hook is a valuable, all-around player. Mountain Pointe (#23 seed) turned in the upset of the play-in round topping No. 10 Desert Mountain, 2-0. The Pride are led by senior Kristin Carr (20 goals).
#9 Highland (14-6-1) at #8 Rincon-University (9-4-1): Highland had an easy time advancing in its play-in game with a 8-0 win over Maryvale. The Hawks have played top-five teams tough for the most part, but have not come away with a win. They are led by Averi Norman (12 goals), America Sanchez (9 goals) and Maddie Montgomery (8 goals). Rincon didn not play any opponent outside of southern Arizona and its four losses are to 5A and 4A schools from Tucson. It won the Southern Region title beating Kofa, the #12 seed.
#12 Kofa (9-7) at #5 Hamilton (12-5-3): Kofa was pushed to PKs in its play-in game with Sandra Day O'Connor and prevailed, 2-1 (5-4). The Kings are led by senior Michelle Fuentes (28 goals). No surprise, Fuentes scored Kofa's only goal in the win over SDO. Kofa suffered losses to Pinnacle, Xavier and Highland during the regular season -- all top-10 seeds in the tournament. Hamilton's calling card is defense. Hamilton took down Perry, 1-0, in its final regular-season game and held its own in a tough region. The Huskies scored the win over Perry, two scoreless ties with Chandler and Basha, and 1-0 losses to Xavier and No.1 5A seed Notre Dame Prep.They are led by team co-captain and center-back Jordyn Schulte; co-captain midfielder Alegra Aguayo; captain and defender Chloe Rapier; left back Olivia Knab (9 goals, 6 assists) and forward Callie Darst ( 9 goals, 4 assists).
#13 Gilbert (11-10) at #4 Desert Vista (14-3-3): Gilbert brings the momentum of a 4-3 overtime win in its play-in game over Red Mountain to the opening round. The Tigers scored the last four goals to win. They face Desert Vista, a Central Region opponent, that defeated them 3-1 earlier this month. Gilbert's attack is led by Ellie Neal, who had two goals in the win over Red Mountain. Desert Vista, which has reached the finals four of the last five years and is 1-3, relies as always on its trademark defense. it's three ties were against Xavier Prep, Hamliton and Millennium. It's losses are to Perry and Campo Verde.
#14 Mesa Mtn. View (11-6-2) at #3 Pinnacle (13-2-2): Mountain View is the only team from the East Valley Region to reach the state tournament field and did so with a 2-1 OT win over Cibola in its play-in game. Ashley Clark scored both goals in that game to help the Toros advance. Pinnacle has been a bit under the radar with the caliber play that's come out of the Premier Region this year. The Pioneers are every bit as formidable as their record suggests. They have a loss and two ties to Premier Region teams (Perry loss, Hamilton and Xavier ties). Pinnacle last won a title in 2014. Pinnacle is led by junior Cassie Wiens (22 goals, 7 assists) and Amelia Junge (13 goals, 4 assists).
#11 Boulder Creek (11-5-1) at # 6 Basha (16-4-1): Boulder Creek escaped the play-in round with a 1-0 win over North thanks to a goal from freshman Aubrie Labno. Boulder Creek dropped a 5-3 decision to Basha back in early December. Basha lost its final two regular-season games in the Preimere Region -- 2-1 and 3-1 to Chandler and Xavier, respectively. That was on the heals of handing Perry its first loss of the season. Basha is led by sophomore Margie Detrizio, who has 23 goals this season. Detrizio victimized Boudler Creek for four goals in their December clash.
#10 Millennium (17-1-3) at #7 Chandler (8-6-1): Millennium entered state play last year as the #3 seed only to be sent packing and blanked in the opening round by -- Chandler. The Tigers get a chance to redeem themselves and go deeper bringing in another stellar record. Their only loss this year is to Pinnacle, 6-0. Millennium has dominated opponents, especially those in its region. Five Tigers players have scored 10 goals or more -- Anacel Valenzuela-Acosta, Naomi Aguilar, Kiana Miyazato, Megan Kirker and Dakota Cameron. Chandler finished strong with a win over Basha and played better down the stretch and brings confidence to the tournament. The Wolves were a surprising final four entry in 2015 as a No. 15 seed.
#15 Corona del Sol (8-11-1) at #2 Perry (19-2): Corona advanced to the semifinals last year, but in a rebuilding mode this year had to scramble to reach the play-in game at #21. The Aztecs responded knocking off #12 Tucson on the road in PKs. Corona's stat leaders are Amber Sammon (8 goals), Skylar Byrnes (6 goals, 9 assists) and Abby Robertson (6 goals, 2 assists). Near the bottom of the qualifiers one often draws a juggernaut in the opening round and that's what Corona is up against.. Perry has not started the same lineup all season due to a myriad of injuries that cost players anywhere from a couple matches here or there to the season-ending variety. The Pumas are led by center-back Emma Richey, midfielder Logan VanDine (5 goals, 14 assists) and forwards Remmi Deutsch (14 goals, 18 assists) and Amanda Dahl (6 goals, 4 assists). Forward Brenna Alderson was lost two weeks ago to a torn ACL. She had contributed 20 goals and 15 assists.