Arcadia Beach Volleyball aims for first winning season
February 27, 2018 by Elly Lundberg, Arizona State University
---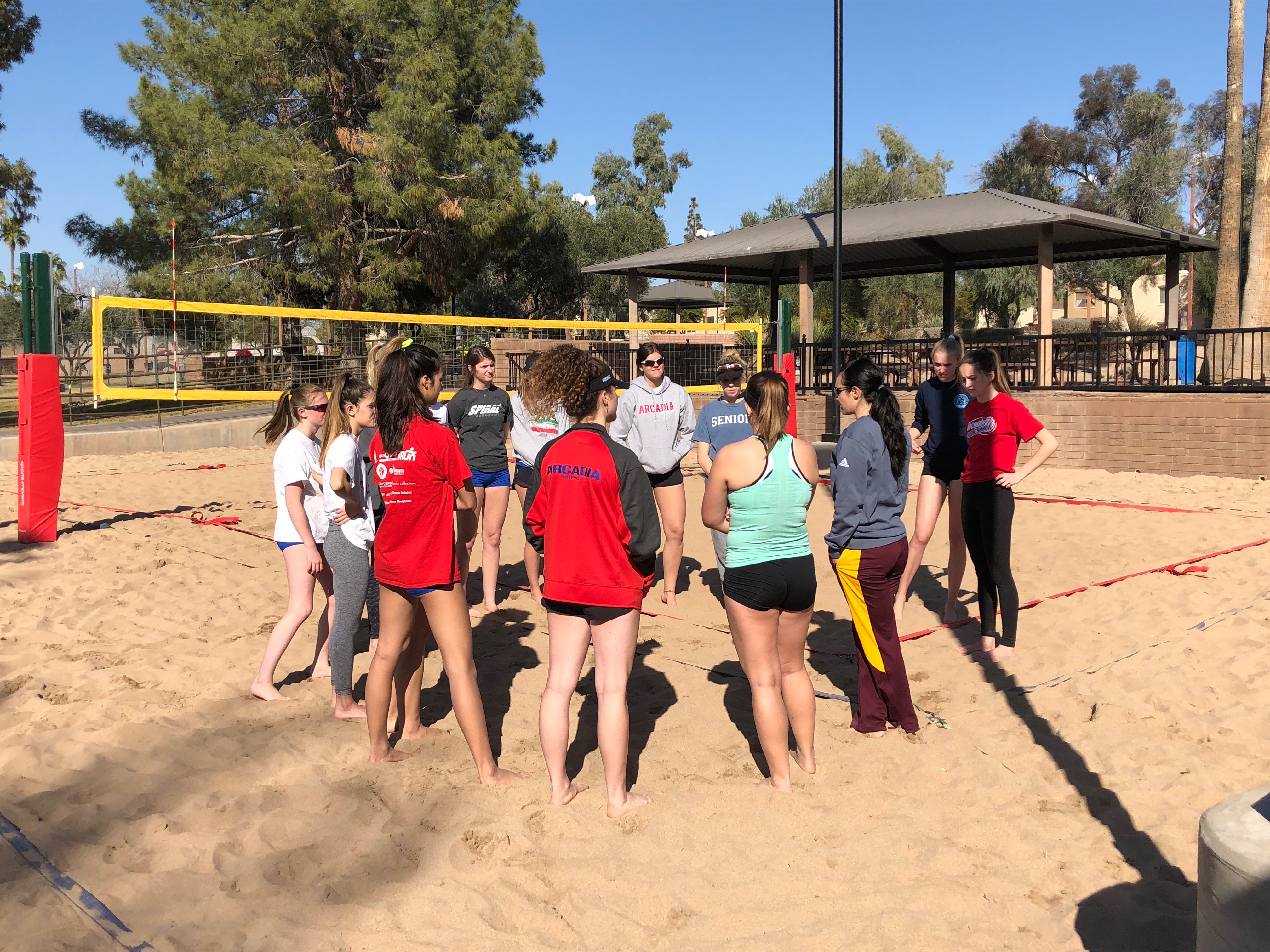 PHOENIX — The Arcadia High School Titans began their third beach volleyball season on Wednesday, falling to the Sunnyslope Vikings 4-1, but new head coach Jackie Bunker hopes to turn her first season with the Titans into a winning one.
Bunker has coached Arcadia's indoor volleyball team for the past two years, continuing the team's winning season streak. Before coaching at Arcadia, Bunker worked for ASU's Pac-12 indoor volleyball team in addition to acting as the interim head coach for ASU's beach team for two years.
With the Titans beach volleyball team being three years old, Bunker looks forward to sharing the knowledge she has gained from coaching at the collegiate level with her team. Bunker said she plans to start with the basics, as most of her team is fairly new to the beach game, and slowly add more advanced techniques and strategies to the players' skill set.
"Ultimately, these kids need to learn the game and with that, there is going to be two steps back before we get any traction forward," Bunker said. "They have to learn to play the game the right way first."
Arcadia has won a total of two games in the past two beach seasons so Bunker hopes to foster the Titans first winning season.
Senior captain Grace Forshey said one of her goals is making it to playoffs for the first time. Forshey has been on the beach team since it started three years ago and said she quickly formed a great respect for the game.
"I just want to learn the game this season and appreciate everything that goes into it," Forshey said. "Beach requires so much athleticism and so much skill and finesse all at the same time, making it very difficult."
Lexi Sweeney, a junior on the team, shares similar thoughts to Forshey about the complexity of the game. Although it is Sweeney's first year playing for the Titans, she hopes to make it all the way to state with her partner Rylie Satran, who plans to play beach at San Jose State University next year.
"I love playing beach volleyball because you get so many more touches on the ball compared to what you get on a six person team in indoor," Sweeney said. "It is so athletic and so much fun to be outside instead of in a gym."
Arcadia's faculty, donors, staff and parents all seem to be on board with the new program and the growing popularity of the sport, with one family even offering to donate money to build a beach stadium on Arcadia's main campus. The team currently practices 15 minutes southeast of campus at Indian School Park.
"We have a family that wants to build courts for us, but we don't have anywhere to put them right now," Bunker said. "We'll see if that changes over the next couple of years. It would be great for the program and great for the fans to have courts on campus."
With the rapidly growing popularity of beach volleyball, Bunker and her team would not be surprised to see courts on campus within the next few years. Bunker is excited for what the future of beach volleyball holds.
Looking ahead, Arcadia will face the Dysart Demons in their second match of the season at Indian School Park on Friday.