Lancer Baseball Classic: Saguaro finishes 5-0
March 23, 2018 by Andy Morales, AZPreps365
---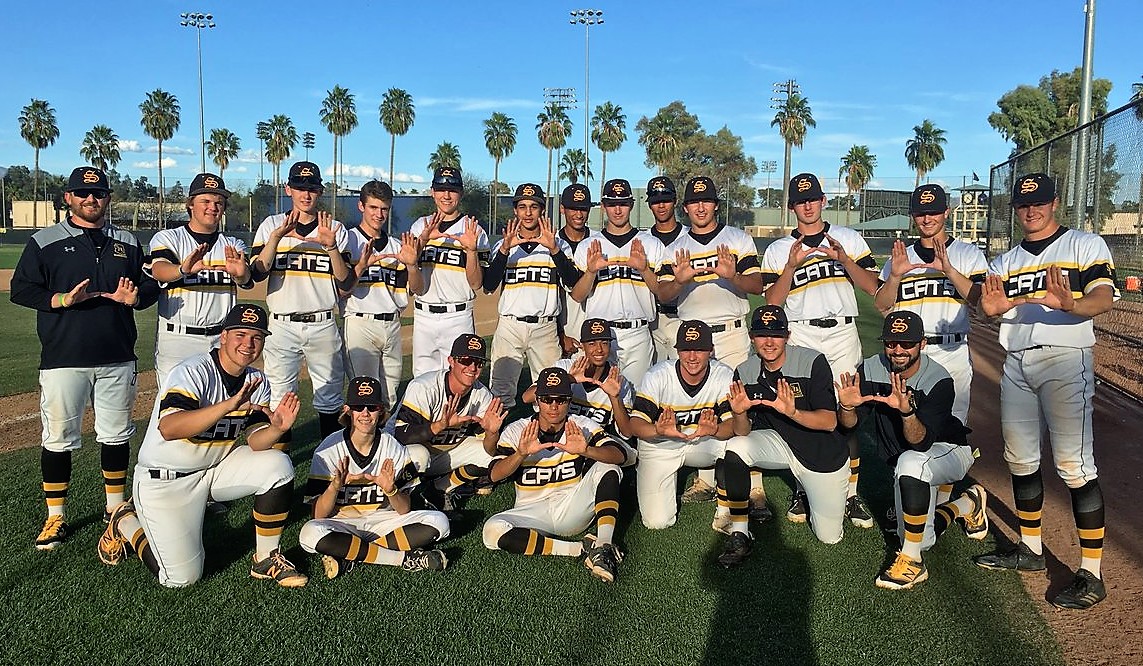 (Saguaro Photo)
Saguaro went 5-0 this past week at the Salpointe Lancer Baseball Classic with big wins over Marana (10-6), Pueblo (8-0), Rincon/University (10-0) and Redlands, California (6-5) before holding on to defeat Catalina Foothills Saturday afternoon.
The Sabercats built an 8-2 lead on Catalina Foothills through the first three innings, but a late run by the Falcons got things close, but the Sabercats came away with a 9-7 victory in the final.
Joel Rubin picked up the win for the Sabercats with Kyle Thomas, Clay Randall, Cody Pock and Austin Thurman finishing out the game. Kai Inouye went 3-for-3 with two RBIs to lead Saguaro at the plate. Hogan Hatten went 2-4 and Josh Sharp finished 2-3. Nolan Bils picked up a double.
Nick Barendrick, Sharp and Jack Slominski also had RBIs.
Sam Gustafson, Gabe Soto, Logan Buick and Jack Reynolds took the mound for the Falcons. Chris Kowalcek went 2-3 with a triple, Gustafson went 2-3, Cole Altherr had a triple, Dante DeNiro had a double and three RBIs and Alec Larson had a double.
Saguaro (15-2) will host Thunderbird on Tuesday, April 3 and Catalina Foothills (11-5) will host Sunnyside on Monday, March 26.
Canyon del Oro beat Nogales 5-1 in the other final game of the tournament on Saturday.
Angel Ochoa threw five innings for the Dorados and Elias Stancer took the ball from there to combine for a no-hitter. Marcel Bachelier and Aaron Solis were also tough on the mound for Nogales, only giving up four hits, but the Dorados were efficient with what they were able to get.
Tyler Porter and a 2-RBI double and Andrew Stucky also had a double. Ochoa, Kiki Romero Brian Romero also finished with RBIs. Jesus Lopez picked up an RBI for the Apaches.
Canyon del Oro (12-5) went 4-1 at the invitational as did Nogales (16-3). The two teams will meet in a region game on Tuesday, March 27 but the Dorados will visit Chaparral on Saturday, March 24 and Nogales will visit Cienega on Monday, March 26.