BASEBALL: Nogales clinches region title with win over Catalina Foothills
April 20, 2018 by Andy Morales, AZPreps365
---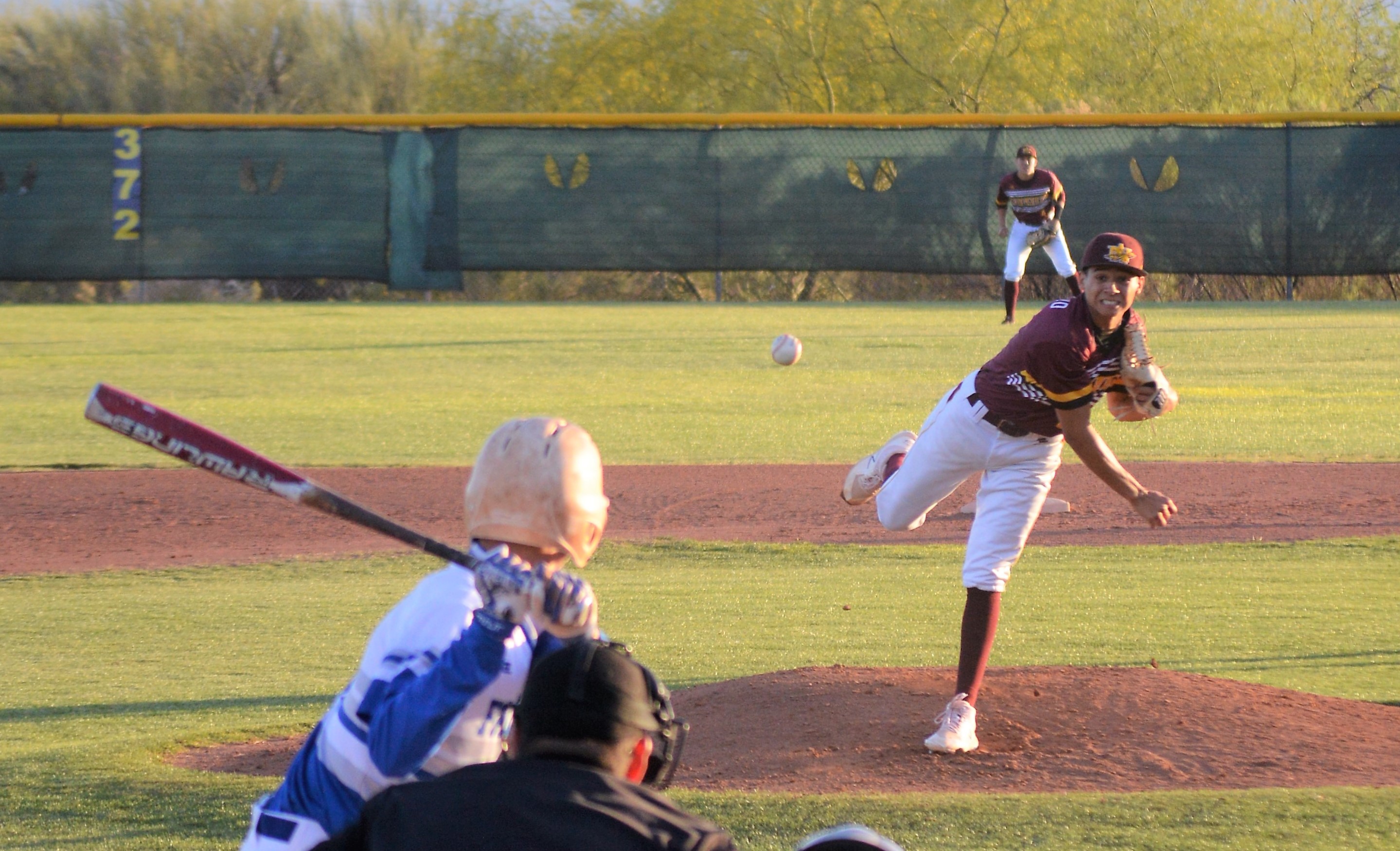 German Fajardo with the win for the Apaches. (Andy Morales/AZPreps365.com)
No. 1 Nogales beat No. 2 Catalina Foothills 8-1 on Friday night to claim the 4A Kino Region title. The Apaches will get the automatic playoff berth that comes with the championship, but that prize is just a formality because all five teams in the region appear to be headed to post season play.
Nogales (16-2 in power-ranking games, 7-1 in region play) has pretty much clinched the top seed in the 4A playoffs and Catalina Foothills (15-2, 6-2) is expected to be the 2-seed. The Falcons still have one more game, a nonconference date at 5A Ironwood Ridge on Monday, April 23. A loss to the Nighthawks could drop the Falcons down a bit but unlikely.
No. 4 Canyon del Oro (13-4, 4-4), No. 7 Salpointe (10-8, 3-5) and No. 21 Walden Grove (7-11, 0-8) make up the rest of the 4A Kino Region.
The loss to Nogales broke up a seven-game win streak by the Falcons, a streak that included a 15-12 win at Nogales on Tuesday.
German Fajardo (6-1) picked up the win for the Apaches on the strength of 10 strikeouts in 5 1/3 innings of work and Markie Lopez (5-0) closed out the game for the Apaches. Alec Acevedo went 2-for-3 with a home run, Marcel Bachelier hit two doubles and Jorge Bojorquez and Kenneth Jimenez added doubles of their own. Bojorquez and Mario Duarte collected two RBI each.
Christian Rodriguez (2-2) took the ball for the Falcons and Sam Gustafson, Joel Collier and Tyler Thomas also saw pitching action. Dante DeNiro went 2-4 as did Alec Larson. Matt Cullen picked up an RBI and Noah Cullen had a single to close out the offense for the Falcons.
In other baseball action from Southern Arizona on Friday night, Flowing Wells beat Cholla 4-0 to claim no worse than a tie in the 5A Sonoran Region with Poston Butte. The Caballeros are ranked No. 3 in the 5A Conference.
Baboquivari beat St. David 11-10 on Thursday night to claim the first region title in program history. The Warriors are ranked No. 3 in the 1A Conference and St. David is No. 5.
In softball action, Marana beat Desert View 8-7 on Friday to claim a piece of the 5A Sonoran title. Both teams finished with a 6-2 record in the region and 1-1 against each other. The Jaguars have a better conference record which means the automatic playoff bid. Ranked No. 22 before the victory, the Tigers may have guaranteed themselves a play-in spot with one game left in the regular season.
In volleyball action, Tucson beat Rincon/UHS 3-1 to claim the 6A Southern Region title.