Volleyball notes: Millennium poised for big season
August 23, 2018 by Jose Garcia, AZPreps365
---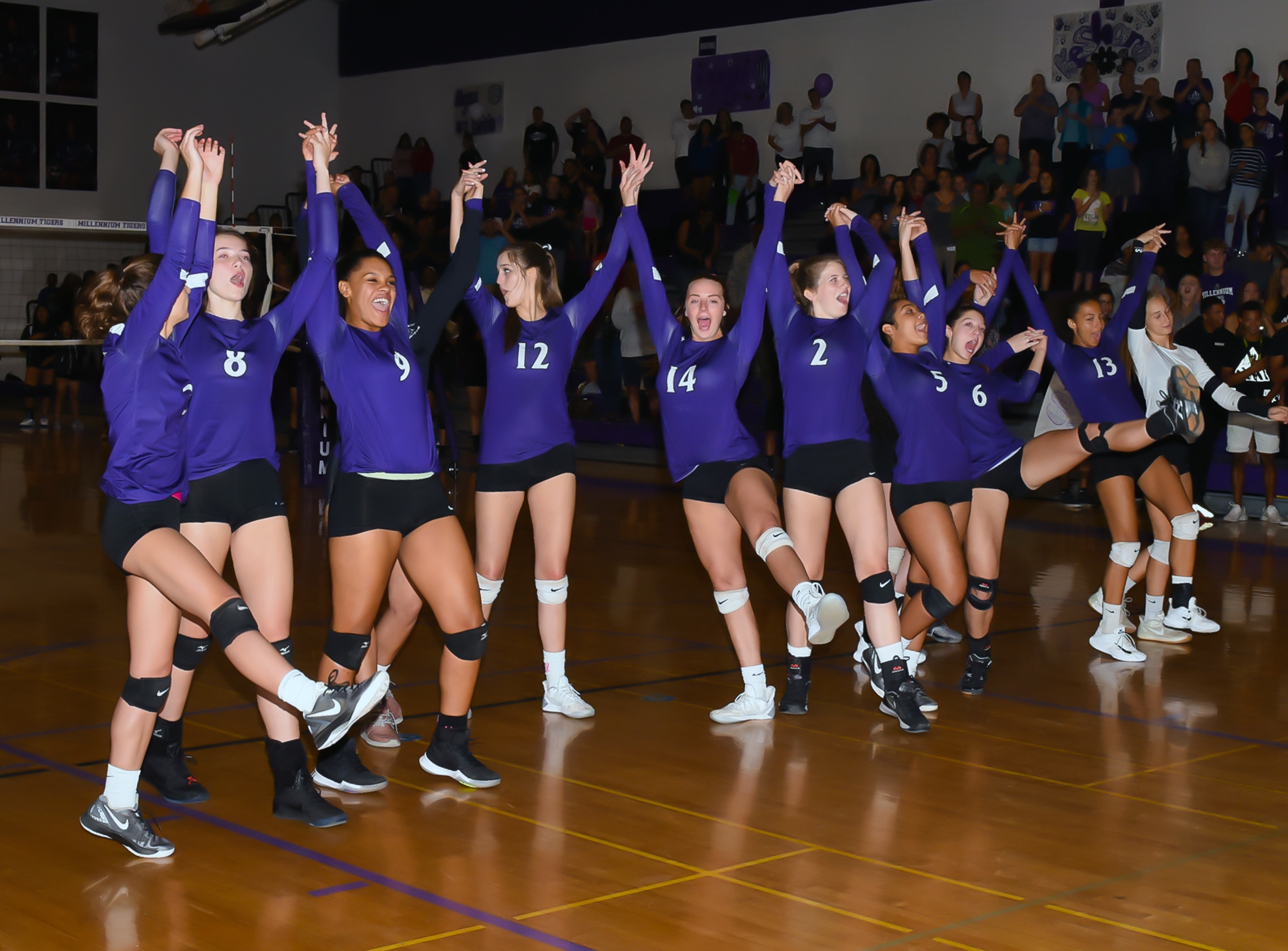 With six returning starters, a 30-match win season for the fifth consecutive year doesn't seem farfetched for Millennium.
The program was the only non-6A team ranked in prepvolleyball.com's preseason top-5 Arizona rankings. Only Xavier was ranked higher than Millennium.
The key returning players for Millennium are:
Senior libero Nicole Hoff. "Nicole is an outstanding defender and passer, who extends plays and gives us extra opportunities to score," coach Julie Vastine said.
Senior middle blocker Sedona Sherman. "Sedona's leadership on the court and her ability to put up a big block is a real asset for our team."
Senior opposite/right side Makaya Middleton. "Makaya is a physical lefty who has the ability score. She is also a vocal leader for our team."
Senior right side/opposite Alana Rennie. "Alana has a great leap and provides a big block and attack on the pins."
Senior outside hitter Ashley Antoniak. "Ashley is one of our top scoring hitters."
Junior setter Hannah Waters. "Hannah is great defensive setter who does a great job connecting with our hitters."
All seven of Millennium's seniors are committed to play college volleyball.
6A
Shadow Ridge
Veteran volleyball coach Linda Rodl, the director of the Arizona Desert Sky Volleyball Club, is returning to the high school ranks.
She coached at Scottsdale Christian Academy from 2002-08.
"Making the jump from 5A to 6A ball will definitely challenge our (Shadow Ridge) athletes," Rodl said. "We have six returning seniors and a strong core of 10th and 11th graders to round out our varsity team.
"We will be led by senior setter Kylie Pendgraft, an extremely talented, athletic young lady who runs the court."
Key players:
Senior middle blocker/right side/outside hitter Dejah Behrend. "She has a fast arm swing and good hops."
Seniors Lexi Richardson and Victoria Layman. "They are adding some great hits and blocking across the front."
Seniors Bri Grabber and Lexi Combs. "They are picking up the serves and hits from the opposition.
"Several of our players are still looking for that right collegiate fit to continue playing volleyball at the next level. The Shadow Ridge Stallions are looking forward to a great season."
5A
Casteel
"This is my first year at Casteel, and I am very excited about the program and the terrific young ladies that have made the team," coach Jeff Bader said.
The team is returning only seven of the 17 players who were on the roster last year.
"We are young with just two seniors, Lauren Hase and Frankie Stokes," Bader said. "This will be Casteel's first graduating class."
2018 goal: "We are not sure what to expect since Casteel is jumping from 3A to 5A. But we have set a goal to make the playoffs."
Key players: "We will be leaning heavily on 3A All- Metro Region player Taylor Tepe (S), who brings athleticism, leadership and terrific court sense.
"Maila Coles (S/RS), Jillian Russo (L/DS) and Sammie Schmid (OH) are three freshmen who we hope will bring a high level of intensity. We have added basketball standout Elizabeth Cruz (JR), who will add tremendous athleticism to the middle. We are returning the two OH's from last year's squad, Kendall Varney (SO) and Tatum Sanders (JR). What we lack in size is made up with an effort and intensity that will make us very competitive."
Centennial
The Coyotes return their entire starting lineup after a semifinal 2017 run.
Key returning players:
Junior outside hitter Ashley Lifgren. Lifgren verbally committed to Grand Canyon University. "She has been a go-to, six rotation player since Day 1 of her freshman year," coach Cari Bauer said. "She has tremendous court sense and is as humble as they come. She leads by actions, and we are hoping she becomes more of a vocal leader this year."
Senior middle blocker Taleah Cooper. Cooper committed to the Air Force Academy.
"Taleah is a polished middle blocker who has natural leadership skills. She is a 3-year starter on varsity."
Junior opposite/middle blocker Nyjha Marcelin. "Nyjha has also started since her freshman year. She is incredibly athletic and can play any position on the net and causes problems with her speed."
Senior outside hitter/libero Sommer Kasney. "She is probably one of the most underrated players in the state. Sommer plays much bigger than she is. She is crafty, and she finds a way to grind it out against some of the biggest blocks at the net."
Junior setter Kacey Stewart. "Kacey started as a sophomore last year and had big shoes to fill, replacing state champion Dani Wiley. She has grown tremendously in the last year, and we look forward to her having a break out season."
(Centennial. Photo by Jim Willittes/maxpreps.com)
4A
Sahuaro
Returning five starters from a 15-12 2017 season.
Key returners: Jr. OH/MB Kasey Purry. "Kasey is an important attacker for us and has the ability to terminate the ball at a high percentage," coach Adam Shingler said.
Sr. MB Alaysha Grissette. "Alaysha is very active in the middle and provides us the ability to get her the ball in multiple situations and areas on the court."
More about the program: "Assistant coach Rachel Balsiger has been coaching at Sahuaro for 11 years in several capacities. She moved from head coach to assistant coach last season and is assisting again. She has a unique ability to connect with female athletes and provide key mentorship. She is really invaluable to both Sahuaro volleyball and to the girls who she has mentored throughout the years."
Youngker
Three of the six returning players were starters last year.
Key returning players: "Kenzie Cumbie will be a great strength for us at setter," coach Troy Sherman said. "Her sister, Sienna, is our region's reigning Defensive Player of the year and will provide a huge advantage for us in the back row. We also have one of the strongest hitting lineups we have ever had with junior Lilly Meadows and sophomores Julie Montes, Jalyssa Rogers and Gabby Belcher and freshman Brittlee Harper. We expect a lot from all of these young athletes.
"The Cumbie sisters have become the backbone of our team and provide so much for us through performance and leadership."
More about the program: "We have failed to make it out of the first round of the playoffs each season. We intend to make a strong push this year. Even though we are young, I have as much or more confidence in this squad than I have ever had. Although we have struggled, a legacy is being built year-by-year. They keep learning and improving. This year is no different."
Coconino High School
Two starters return for Coconino, which has won at least 20 matches in the past five seasons.
The returning starters are sophomore setter Brooke Parker and senior middle Sophie Sinek.
"Brooke was ranked 5th (in assists) nationally last year amongst setters in her class on maxpreps and 4th in Arizona and youngest in the top-5 in Arizona last year. She is super athletic and has a high IQ for the game, which makes her a defensive and offensive threat as a setter. She will be a weapon in every stat category."
2018 goals: Win a region championship for the first time in more than a decade. "We are more well-rounded than the last four years. Opponents will see new faces as threats at the net and back row."
3A
Blue Ridge
"I have three starters returning and only four total varsity returners," coach Lori Clarey said. "Out of my three starters, only one will be playing the same position as last year. The rest of my team will be new to varsity this year."
Key returning players:
Junior outside hitter Ellie Berges, a Jr. OH, 1st team All-Region and honorable mention for the 3A Conference. "She played MH last year but has developed into a much more dynamic hitter and is now a six rotation player as well."
Junior middle Kiera Smith, an honorable mention for the East Region. "Kiera is a fast and aggressive blocker who will carry a heavier offensive load for us and see more time in the back row."
Senior outside hitter Janessa Pape. "She has a very high volleyball IQ and, combined with her impressive vertical, will make her a very effective hitter."
2018 goal: "Season is to qualify for state again and to remain ranked in the top-10 throughout the season."
FOUNTAIN HILLS
The team returns five starters.
Returning key players:
Senior setter Alyssa Barbagallo. "Alyssa is a 4-year starting varsity setter for us who was 1st team 3A Conference as a junior," coach Peter McGloin said. "Tough competitor who set the school record for assists last year."
Senior setter Corrin Schulze. "Corrin is a big moment player who is another 4-year varsity starter. She has the school season record for aces during her sophomore year and should set the career record early this season."
Senior libero Alexa Armenta. "Alexa is an unsung hero who I think is one of the best liberos in the state, any division."
Senior middle Andi Bohlman. "Andi is a powerful hitter and our best blocker. She's ready for a breakout season after earning 2nd-team all-region last year."
Sophomore outside Barett Nolan. "Barett started the entire last season at MB for us, but she's got the potential to be a great OH. Looking forward to see what she does to follow-up a strong freshman season."
Senior middle Jenn Stricker. "Jenn was a starting MB and RS for us in 2015 and 2016 before taking last season off. She is back for her senior season, playing better than ever and ready to show-off her offensive versatility.
Junior outside Gina Woods. "Gina played a lot of meaningful matches as a sophomore when our starter was down for 1/3 of the season. She has been showing off her speed and strength all summer, and I'm excited for what she's going to do this season."
2018 goals: "That we play hard, and try to compete for championships. I think this team, with over 16 years of varsity (coaching) experience, could be another special group. They've won a lot of big games over the past two seasons while winning back-to-back state championships in indoor and beach. There's going to be some really good teams in 3A again this season though, so the path to the title is going to be very tough as always."
Monument Valley
Number of returning starters: 2.
Key returning players:
Senior middle/outside Trinity Gowan. "Trinity has experience with running middle and outside hitting and is a full rotation player," coach Rennell L. Gimore.
Senior DS Kaylee Begay. "Kaylee has defensive experience that we will need in the back row and is also a very good server as well."
More about the program: The coaching staff are alumnus of Monument Valley and have played for Monument Valley coaching legend Lucinda Nash.
2018 goals: "Throughout the season we want to continuously improve, and to find out our strengths and weaknesses to build a solid team. We have all season to prepare for November."
Northwest Christian
Returning starters: 4.
Key returners: Sophomore MB/OH Reagan Hope. "Reagan is a team leader that provides intensity and is a big offensive weapon," coach Jenna Hope said.
Junior right side Zoe Dalessandri (11, RS). "Zoe puts a big block on the right side that can shut players down."
Sophomore setter Molly Kipp (10, S). "Molly runs a quick offense that allows us to compete with bigger programs."
Sophomore outside hitter McKenzie Wise. "McKenzie is a transfer that will add a lot to the team at the end of the year."
2018 goal: "Our goal this year to compete successfully in every game we play. Another goal is also to have the opportunity to win state."
2A
Tempe Prep
Returning players: 8.
"We have a very versatile and well rounded group of returning athletes," coach Natalie Rockwell said. They are all equally skilled and hard working."
2018 goals: "My goal in my first year at Tempe Prep is to create a culture of excellence and competition with the varsity team. We will work hard and play harder!"
1A
Mayer High School Wildcats
Five starters return for a program that has posted back-to-back winning, postseason seasons.
Key returning players:
Senior middle blocker Jacie Carlise. "She has a depth of experience at both outside and middle hitting positions," coach Kym Reid said.
Senior middle hitter Katie Stokes. "Katie has a big block in the middle and is our 'kill' leader in serving."
Senior right side hitter Victoria Carrizoza. "Victoria is a middle blocker who we are moving to outside to help with blocking, and she is our leader in serve percentage."
Junior libero Belen Vega. "Belen is our all-over-the-court player and never lets a ball drop."
2018 goal: Region runners-up, qualify for state in the top-10.
Mogollon
The program returns five starters for another shot at a title, something that has eluded the state runner-up the past two seasons.
Key returning players:
Senior setter/outside hitter Lauren Hancock. "Lauren is an all around athlete. She is an outstanding setter and is a powerhouse on the outside."
Junior middle hitter Jillie Maner. "Jillie is a great middle hitter/blocker. She is also a great back row player."
Senior setter/opposite Makenzie Willis. "Makenzie is also a full rotation player and holds the highest serving percentage."
Junior middle Tyra Parry. "Tyra is a great all around player. She also plays the full rotation."
Junior opposite Hannah Ballesteros. "Hannah is a great opposite and also plays the full rotation. She has a great serve."
Ray High School
Starters returning: 4.
Key returning players:
Junior OH Emma Cude. "She can hold her ground and is able to pull digs from tight on the net," coach Monica Kenyon said.
Senior libero Daniella Hinojos. "She is my key libero with an amazing curve serve, and she is like no other defensive specialist on the court."
Senior setter Amee Kenyon. "She is a 4-year developed setter who had the vision to see the court and make plays needed."
Senior middle Tara Loroña. "She has an ability in the middle to block and set up for the crushing plays."
Junior middle Shelby Yocum. "She is playing the front middle with an exceptional jump serve that is on target. Plays the net with power."
2018 goal: Our goal is to develop a functioning team who can overcome any challenges placed in front of us as one.