VOLLEYBALL: St. Augustine wins 26th region match in a row to clinch another region title
October 18, 2018 by Andy Morales, AZPreps365
---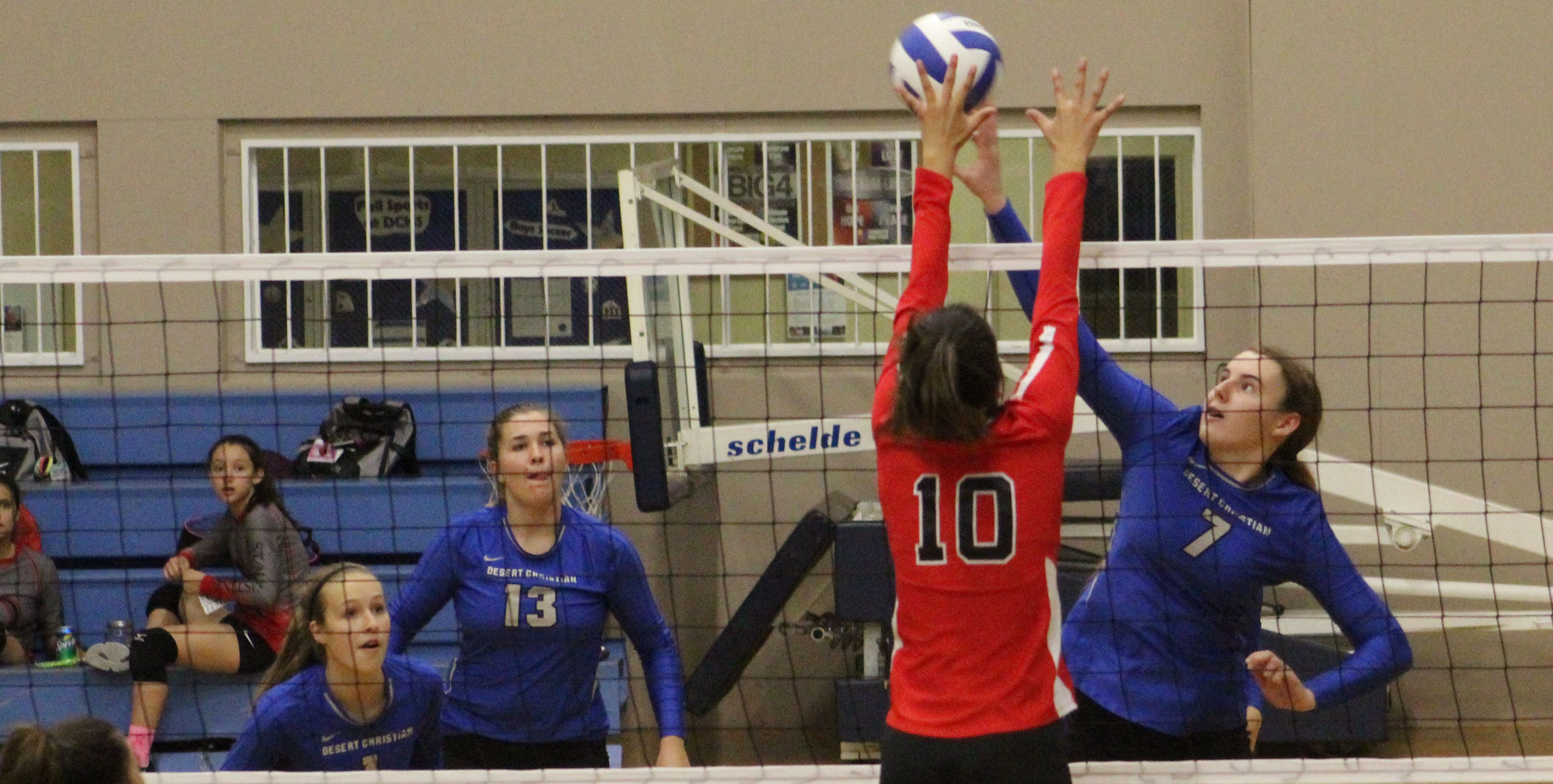 No. 14 St. Augustine clinched the 2A South Region title thanks to a 3-0 win at No. 21 Desert Christian Thursday night. The region championship is the second in a row for the Wolves and it extended their win streak to 26 matches in region play dating back to Oct. 17, 2016.
As with any power, St. Augustine (22-4 overall, 12-0 in region) thrives on excellent coaching and a nucleus of players who have bonded together towards a singular goal.
"Most of our starters are back from last year and that experience has carried us to another successful year," head coach Adilene Encinas said. "Serving has been one of our strengths this year and passing has also been key."
A former all-star setter at St. Augustine herself, Encinas also switched things up from a 4-2 to a single-setter to take advantage of the play of sophomore Guadalupe Medina. Medina has responded with 12 plus assists per match with her main target being senior standout Arianna Navarette.
Things started out smoothly against Desert Christian (14-13, 9-4) but an 18-12 lead in the first set gave way to an 11-3 run by the Eagles to put Desert Christian up 23-21. The Wolves have only dropped three sets in region play all year and it looked like this would be the fourth setback but the Wolves fought back to take the opening set 25-23.
"Desert Christian is a good team but I attribute that finish to resiliency," Encinas added. "They know what they need to do to get it done."
The second set was won on the service line, as Encinas mentioned, with Desert Christian committing three service errors to go along with eight aces by the Wolves, including three in a row from Anjolie Navarette to extend a 20-16 lead to 23-16. St. Augustine took the second set 25-16 to go up 2-0 but Desert Christian fought back in the third set.
The Eagles jumped out to a 7-0 lead in the third set but the Wolves responded with a 12-0 run to go up 12-7 with Brianna Devries serving 11 straight points including five aces in a row. St. Augustine went on to win the set 25-16 with Devries recording the region-winning point on her eighth ace of the night.
The region championship guarantees a playoff spot for the Wolves, most likely the 2A Play-In Tournament scheduled for Oct. 30, but the at-large berth from the region is still up for grabs between Desert Christian and No. 20 Miami (11-8, 9-4). The two teams have split their two matches but the Vandals hold the tiebreaker thanks to a better conference record. At any rate, both teams could make the Play-In bracket based on ranking.
Medina finished with 21 assists, Anjolie Navarette had nine kills and Arianna Navarette had six kills, four aces and four blocks. MacKenzie Barr had nine assists for Desert Christian and Annalyse Fennema had seven kills and three blocks.
In other action from Southern Arizona, No. 20 Rincon/UHS beat No. 11 Empire 3-2 Thursday night to prevent the Ravens from winning the 5A Sonoran Region. No. 2 Salpointe clinched the 4A Kino Region, No. 23 Amphitheater won the 4A Gila Region and No. 2 St. David took the 1A South Region. No. 6 Bowie/San Simon picked up the at-large berth from the 1A South Region.
No. 10 Ironwood Ridge and No. 8 Cienega are headed to a major showdown next Tuesday for the 5A Southern Region and No. 7 Tanque Verde will face No. 12 Pusch Ridge the same night from the 3A South Region.
St Augustine wins the 2A South. Welcome to the playoffs #azpreps365 pic.twitter.com/kUnDV3LOpw

— Andy Morales (@AZPreps365Andy) October 19, 2018