3A soccer finals: NW Christian going for upset No. 2
February 14, 2019 by Jose Garcia, AZPreps365
---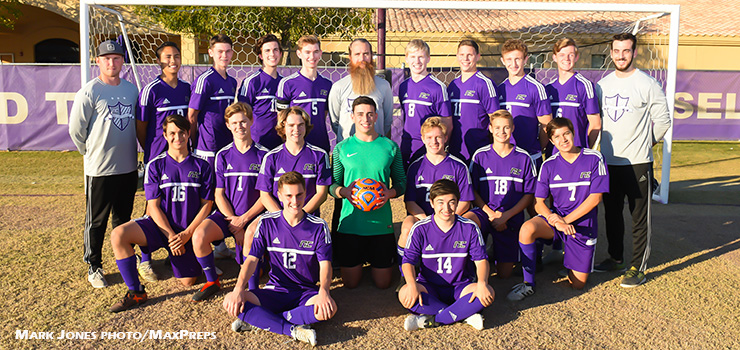 On paper, the odds aren't in Northwest Christian's favor of winning the 3A Conference championship.
But the boys soccer team wouldn't mind shredding the less than favorable prognostications again. In the semifinals, Northwest Christian pulled off one of the bigger Arizona high school postseason soccer upsets despite being on the brink of elimination.
The next challenge for the Crusaders, Coronado, is a soccer force in the state. Friday's winner at Williams Field High will become the first 3A state champion since 2014 not named Yuma Catholic.
In Tuesday's semifinals, Northwest Christian edged four-time defending champ Yuma Catholic in dramatic fashion. With 2:20 left in his team's season and trailing 1-0, Crusader goalkeeper Ben Ogan booted a long distance free kick that somehow went in.
Down 1-0 in the final 140 seconds in regulation against 4-time defending champ Yuma Catholic, @NCSCrusaders goalkeeper Ben Ogan scores off a free kick near midfield. NW scored in OT down a man to snap YC's 46-match win streak and make 3A final. Video courtesy of Chris Murphy: pic.twitter.com/QQgx3NSDSW

— Jose E. Garcia (@AZPreps365Jose) February 13, 2019
"We knew Ogan has a bomb, so we had him come up and take the kick," Northwest Christian coach Jeremy Witt said. "We had everyone we could pushed up to challenge the ball. All we have asked our boys this season is to give us a chance to challenge free kicks and put them on frame. Ogan did just that and hammered the free kick far post."
The semifinal game eventually went into overtime, where Northwest Christian found itself down again.
It lost a man after a second yellow card was given. But Northwest Christian once again persevered.
It's still had its goal machine, Michael Huss, on the field, who picked the right time to score his state best 47th goal.
"We got a throw in and went quick with it," said Witt as he replayed the game winner. "Huss had the defender isolated on the line. He beat the defender and went for goal. From what seemed like an impossible angle, he hit a banger that beat the Yuma goalie high near post to go up 2-1, and we went crazy."
Northwest Christian's fans are hoping their boys saved some craziness for Friday.
The rivalry against Yuma Catholic seems to bring out the best in the Crusaders. During the 3A football championship game, Northwest Christian (Huss was the team's kicker.) won a thriller of its own in overtime against the Yuma school.
Friday's 3A finals will turn into a soccer reunion of sorts for Northwest Christian, as its girls also will play for a soccer championship troph. They'll play Anthem Prep, which defeated No. 1 seed Yuma Catholic 1-0 in the semifinals.
In its 5th year as a soccer program, this is the second time Anthem Prep will play for the title.
New Story: HS Girls Soccer Beats Pusch Ridge, Trivium, and #1 Seeded Yuma Catholic to Make it to the State Championship Game. https://t.co/CR3gWgJvRJ

— Anthem Prep Eagles (@theapeagles) February 14, 2019
Coronado will play in its fourth title game since head coach Nick Barker took over in 2013-14. There's also some history between Northwest Christian and Coronado.
Barker was an assistant coach at Valley Christian, where he was a former small school player of the year, when his brother and current assistant, Paul, scored the game winner against the Crusaders in the 2008 semifinals. Barker's 2014 Coronado team defeated Northwest Christian, coached by current Northwest Christian girl's soccer coach Jeff Penzone, 3-1 in the Division III championship match.
And this season, Coronado defeated Northwest Christian 4-0 on Dec. 14.
"The (Dec. 14) score line didn't reflect how the game went," Barker said. "They had opportunities.
"Northwest is one of the elite programs in 3A. They always play super organized and aggressive. They are a direct team. They don't pull any strings. We have to man up on defense and don't let anything slip by. It'll be a daunting task facing a phenomenal goal scorer (Huss), who knows how to finish 1-on-1 and is good in the air. We are up against it with Huss."
Keeping an eye on Huss will be Coronado's center back, Lalo Gonzalez.
The captain recovered from a broken arm injury and is back stronger than ever. Like Northwest Christian (18-2-1), Coronado (15-4) also is strong up front.
Northwest Christian's defense will have its hands full with forwards Raul Roa and Adan Valley, two senior captains.
"The thing I'm proudest of is the level of respect my players have for each other, opponents and officials," Barker said. "We haven't received any cards for poor language. No red cards for dissents. They are honorable boys. That's a win. No matter what happens on Friday we'll accept the outcome because of being able to develop young men into leaders."