Marana High School names gym in honor of former basketball coach
December 9, 2019 by Amanda Eddingfield, Marana High School
---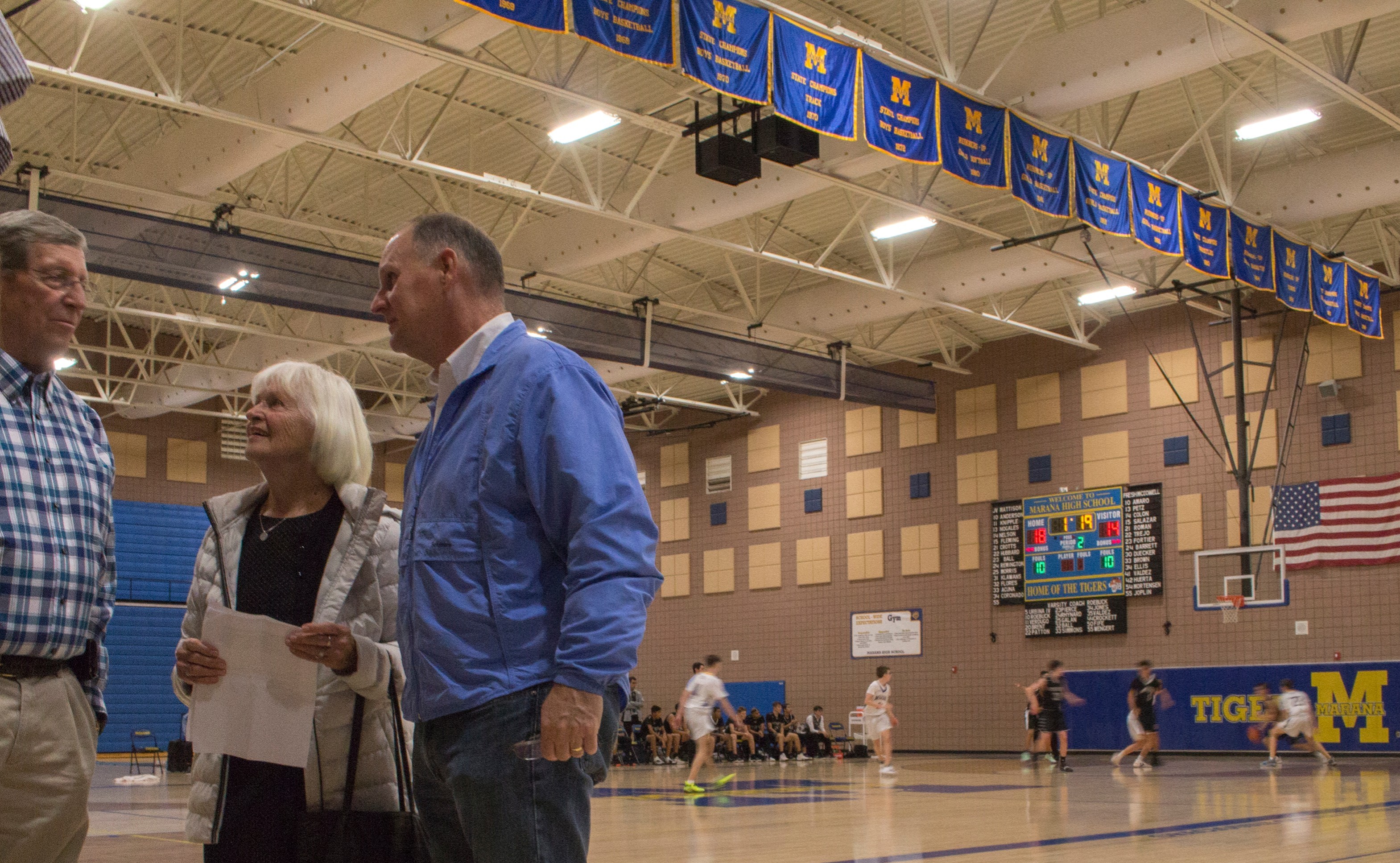 As the newer of the two Marana High School (MHS) gyms receives a new sound system, floors and LED light fixtures, it is only fitting that its name reflects its high caliber by being named after the school's legendary basketball coach, Norman Patton.
After passing away on Sept. 14, 2016, Patton's impact has not stopped nor been forgotten.
The MHS Athletic Director and Dean of Students, Sarah Whaley, was friends with Patton and his family and attended his funeral. There, she talked to many of the players who had played for Patton.
"They just talked about how instrumental he was in their lives," she said.
Whaley's own experience with Patton, combined with the ones she heard about from the players, led her to think about his name for the gym.
"When we were redoing the floors of the gym, I thought it would be a good time to maybe think about giving it some type of name…," Whaley said. "I started thinking about people who've had an impact here basketball-wise. His name was one of the top ones."
Coach Patton led his team to many great victories throughout his time as MHS's Basketball coach from 1965 to 1972, and later at Pima Community College and Central Arizona College.
Norman Patton's wife of 57 years, Sandra Patton, said, "His first two years of coaching at Marana sent the Tigers to State…next, they made it to the Finals, but no Championship. He still questioned himself…the 1968-69 season was to prove the strength of his judgments…it was December 7, the Tigers won 117-41. There were many instances when our full-court press took possession of the ball before the opponents could cross the half-court line."
While making strides in basketball, Norman Patton also broke barriers made by the prejudices and social norms of the day.
"He was instrumental especially with building bridges between races," Whaley said. "He was one of the first coaches in the state who had a starting line-up that consisted of African-American players."
Patton loved the game, and wasn't going to let anything else get in the way.
"He wanted the best players on the floor regardless of their ethnic background," Sandra Patton said.
The school was extremely supportive of its successful basketball team.
"When the basketball team played in the finals, the students signed up to board eight school buses to go and cheer. One player related how he walked into his class on Monday morning, after winning the championship and received a standing ovation from his classmates," Sandra Patton said.
Coach Patton took the time to make his players better athletes.
The point guard for Patton's 65-66 team, Ken Ryan, said, "Coach taught us how to play with heart, respect and a will to win, but the ability to lose with respect as well."
He made them better even if it meant temporary discomfort for them.
"He expected a lot, and was hard on you. But as hard as he was on you, if you talk to anyone who ever played for him, he loved his athletes," Whaley said.
Patton continued to care for those around him while off the court.
"Outside of coaching, which he was super successful at, multiple state championships, region titles, coach of the year, and honors, he was just really, really good for the people of this community," Whaley said.
Coach Patton made sure that his players were taken care of in many ways.
"We would prepare hamburgers, or my go-to meal spaghetti, for those players to eat between school and game time," Sandra Patton said. "At one point, Norman realized some of his players were walking home after games. He made arrangements for them or drove them himself. Players were always welcome in our home and he felt responsible for them both on and off the playing floor."
Patton made sure to teach his players lessons for their present and futures.
"I look back and saw that Coach taught us to work hard but have fun, respect ourselves, each other, our family, the game of basketball and most of all, respect for life and all people around us… He always made me feel as if I was part of his family," Ryan said.
Those close to him always will remember Patton's personality.
"He was a calm, quiet thinker, using those solitary moments to contemplate decisions that would turn out to be ahead of everyone else's ideas…Norman was a happy guy," Sandra Patton said. "When he walked into any room, he infused it with his personality, giving those of us in his family and circle of friends a memory we will always hold close in our hearts."

Thursday night, before the dedication, many of Norman Patton's family and players came together, relived old memories, and caught up with each other's lives. The dedication itself honored Norman Patton's life and family through a biography, a speech by Whaley, a speech and memories from Sandra Patton, and a presentation of a plaque to the Patton family.
Through memory and dedication of the Norman Patton Gymnasium, Coach Patton always will be remembered with love:
By friends:
"We talk about kids and moving into the future, but I also think it's important to recognize and honor the past. I think he would be very proud of where the school's at, and what the students of our school are doing," Whaley said.
By players:
Ryan said, "This I know, there are few people in this world that have impacted so many others in such a positive and everlasting way as Coach Patton did. I know I was blessed for the privilege of having the opportunity to have Coach Patton in my life."
And of course, by family:
"I am, along with my entire family, both humbled and grateful for this generous honor being bestowed to remember Norman's years at Marana High School. I cannot begin to give enough thanks to the School Board, the Administrators and others who are responsible for and who have participated in making this event come to pass. Norman would have been enormously proud of this recognition, and would have happily given credit to those players and coaches who helped make his success possible," Sandra Patton said.